US 60/65 Interchange Springfield, Missouri

Email Updates
If you'd like to receive regular updates on the 60/65 interchange reconstruction project, fill out the form below and click submit.
Your email address will be included in a special 60/65 email group.
PUBLIC MEETINGS
Pre-Location Public Meeting
September
4:00 pm to 7:00 pm
Missouri Dept. of Conservation, Springfield Conservation Nature Center
4600 S. Chrisman Avenue
Springfield , Missouri
Times and locations will be posted on this page as the hearings are scheduled.
YOUR INPUT IS IMPORTANT
Please contact us with your questions and comments. We are interested in hearing anything you would care to ask or say about the existing US 60/65 interchange, existing conditions in the area of the interchange, what a redesigned interchange should look like or any other topic you feel is important.
Here are some relevant questions and items you may want to consider as you prepare your input:
Design diagrams, visualizations and materials from public meetings are posted on our Exhibits page as they are developed.
Needs and Constraints – Major items are shown on our interactive map.
Are there other smaller or less obvious points we should know about?
What are your priorities? What problems or issues with the current interchange are the most important to you?
What should we fix first: The short merges? The at-grade railroad crossing? The tight cloverleaf ramps? Something else?
What can we do to keep traffic moving during construction? Which movements through the interchange or along its ramps are most important to you?
What important issues would you like us to talk about at a public meeting or address in a new interchange design?
Is it more important to save money by closing some ramps during construction or are there some ramps you think should never be closed, even if it would increase the cost of the project?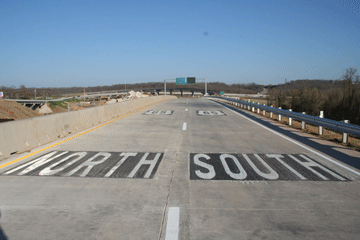 New pavement markings help drivers navigate the new eastbound U.S. 60 ramps. Drivers must be in the left lane to go north and in the right lane to go south on U.S. 65.
MoDOT – Missouri Department of Transportation
Southwest District
3025 E. Kearney Street
Springfield, MO 65803
Related Posts