US 60/65 Interchange Springfield, Missouri

Overview
The US 60/65 interchange in southeast Springfield was built more than 30 years ago. Its cloverleaf design clearly marks it as a relic of a time when traffic volumes were much lower and the anticipated volumes of the 2030s would have sounded farfetched, to say the least. Of course, back then, the 2030s were sixty years in the future.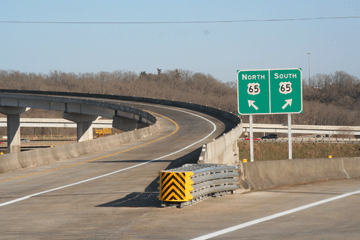 The new eastbound-to-northbound "flyover" ramp is open at the U.S. 60/65 interchange. The ramp stands 70 feet off the ground.
As a new interchange is designed, MoDOT must accommodate the traffic volumes of 2030 while meeting its mission of Smoother, Safer, Sooner. Present-day traffic woes must be eased at the earliest possible date and within a very efficient budget.
A number of issues are being considered as initial design concepts are developed:
What will the new interchange look like? How do we want it to operate?
What kind of design will best fit the location? What geographic features or existing conditions should we be mindful of as we design?
Can construction be phased to provide relief sooner?
Initial construction phases could cost $50 million dollars, and total replacement of the interchange could cost anywhere from $100 to $200 million dollars, depending on the design solution. Would replacing only some of the cloverleaf ramps satisfy critical needs and make money available for other critically-needed improvements elsewhere in the Springfield metro area?
The replacement of the US 60/65 interchange has begun with a study and design process that will result in a preferred design for a new interchange and construction plans for building it, beginning soon.
MoDOT – Missouri Department of Transportation
Southwest District
3025 E. Kearney Street
Springfield, MO 65803
Related Posts